Today we will discus about how to Cook a variety of kebabs at home.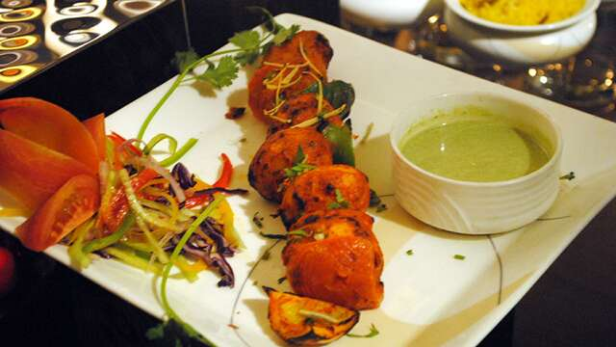 How to Cook a variety of kebabs at home
Ingredients
125 g peeled small potatoes
50 ml of refined oil
Sour yogurt with 25 g of water
10 ml cream
5 gms of Kasuri fenugreek leaves
Salt to taste
Take
10 gms of Kashmiri whole chilli,
15 gms of ginger
, 10 gms of coriander, cumin powder,
10 gms of chaat masala
.
Wash the potatoes and boil them in a pinch of salted water.
Make a paste of butter spices together and mix well with sour curd.
This time mix potatoes, cream , fenugreek and spices well .
Leave it for half an hour and grill until it turns brown.
Now spread chaat spices on top and serve hot with mint chutney.
Mint Cheese Tikka
Ingredients
180g Squared Cut Cheese
50g Squared Cut Capsicum
50g Water
Sour Sour Yogurt 25g Kurono Cheese 25ml
Cream 15g
Ginger Bata
15g Kashmiri
Chili Powder 10g Kasuri Fenugreek Leaves
5g Hot Spices
1 tablespoon Salt
taste Basil paste, yogurt , ginger paste , curd cheese , chilli powder , kasuri fenugreek , hot spices , coriander leaves ,Butter and oil all this .
Now put cheese and capsicum in this mixture and leave it for 15 minutes .
Bake in the oven with the marinated cheese and capsicum until golden brown.
Then sprinkle chaat spices on top and serve hot.
Corn Kebab
Ingredients
80 gms corn
50 gms boiled potatoes
15 gms ginger and green chillies
10 gms cornflower
15 gms chickpeas pulses
25 gms ghee
50ml Refined oil
Mix everything except ghee in a bowl with mint chutney and lemon juice
Method

Heat ghee in a pan and pour the whole mixture
Allow the mixture to cool. Then cut into four pieces.
Make a thick skewer with an elongated shape measuring about four inches in size. Brush 1/2 tablespoon butter
on each kebab . Kebabs have charcoal or electric bars.
Leave it in B – Q for four minutes till it turns dark .
Now cut into three pieces and serve.
More update about Cook a variety of kebabs at home will be here soon.